 Christian Chukwu: My mother sent me to sell plantain to stop me from playing football …
Speaks about early life, Ernest Okonkwo, Green Eagles days, Dan Anyiam, Tico, Otto Gloria, Westerhof, stints in Lebanon, Kenya, Femi Otedola A book on the life and football career of Nigeria's beloved footballer and coach of international repute "Chairman" Christian Chukwu written by journalist author and publisher Ogechukwu Ajuzie is warming up for presentation in Lagos.
The 361 pages book with memorable photos titled; 'The Field Marshal Chairman Christian Chukwu; Biography of an African Football legend,' is a cruise on the history of Nigeria and African football so to say with the life of the former Rangers and Green Eagles captain and coach as well as coach for the Harambe stars of Kenya and Lebanese national team as the anchor.
It takes note of his background, childhood, his youth, team captain and coach as well as everything. No date and venue has been set for this presentation.
FRED IWENJORA met up with the "Chairman" himself who speaks about how he feels about the book and more intimate details as he flashes back on memory lane.
Kindly assess the performance of the Falcons at the just concluded WWC in Australia?
I think that the Falcons performed very well at the world stage. I am very happy with their performance. They did very well and I hail the team and their handlers.
Now tell me sir…what has life taught you at the age of 72?
At 72, I have learnt so much about life, one of which is that nothing is important in life. I have learnt that we are all on a journey in this life. If you like, you can own the whole of Nigeria. But one day you will lose it and go to where you do not know. And some of those who do not have even one room will continue to enjoy the one room they own. I learnt that there is no need to kill one's self in this life. I have learnt that human beings should take life the way they see it and keep moving and keep living.
Did you ever envisage that your name would be heard across the world while playing street soccer in your neighbourhood and in primary school?
I was just enjoying myself while playing. I cannot completely tell you how I love football. I never knew that I would reach the level that football took me. As far as I am concerned, I was just enjoying myself. Even my father did not allow me to play. He discouraged me in many ways just like my mother who would load up a tray of plantain for me to go and sell. All these were to stop me from playing the game. But I would complete sales and drop my tray at one corner and join my friends on the pitch. Sometimes I forgot my school bag. It is a talent from God which I never knew would make me see the world and meet many big people including presidents and governors.
In 1980, Nigeria won AFCON by slaughtering Algeria; do you recall any thing that happened on the eve of the match and more?
Remember that before that match, we had become so solidified as a team. We started in Ethiopia in 1976 by winning the Bronze. We then won Bronze again in Accra Ghana in 1978. This solidity of the team contributed in our winning the cup in 1980. On the eve of the match, I recall that we slept very well because we had been playing together. We were relaxed. I recall that top government officials came to address us and made promises. When we entered the pitch on that day, we were at our very best and God on our side we hammered Algeria. That is just that.
Then you must agree that when a team is together for long, they do well?
Of course that is very correct. By that time everyone knew each other very well. I knew when Segun would move and when to place the ball to him. And Segun knew when Muda would cross as would Adokiye. We had stayed together and did not even need the coach to tell us what to do at the time on the pitch because we knew ourselves very well.
Let me tell you being friendly, together, brotherly and happy with each other as one family helped us win the cup. In fact, being together is the key to success of any team. I am very happy that we are still keeping our friendships and may the souls of those of our mates who have died continue to rest in peace.
There seems to be a close bonding with members of the team, what do you think is reason for this?
I can't tell but I may say the passion for the game led us all and not money. I have friendship with all our teammates and as leader you couldn't afford not to be. You should have seen us a few weeks ago in Lagos when Air Peace Chairman Allen Onyema honoured us. Some of us did not recognise each other again. We had aged much. Some had grey hair, some were limping, others were walking with sticks. We may be old but our friendship and brotherhood still remains.
Captain means leader… Do you think of yourself as being born with leadership qualities?
I have not thought about this. However, my leadership started with Rangers when Dan Anyiam named me Captain at the departure of Dominic Ezeani to the US. When he also moved to take over the National Team the Green Eagles, I was also invited in 1974. He had felt I had leadership qualities and also appointed me captain.
With God on my side I was able to lead and control my fellow team mates from 1974 to 1980. To be captain of your team mates and be successful, you must be trusted and you must be humble. No leader succeeds without these two qualities. If not, no one will allow you to lead him or her. People will misbehave and you can't do anything about it and it will tell on the general performance of the team.
What character of yours made you trustworthy?
This is not for me to say but for my teammates who have said I led them well. I just lived a normal life. I was fair, friendly and sincere to all. But they know better.
You came across several Coaches either as player or coach like Dan Anyiam, Tiko, Otto Gloria, Westerhoff and a host of others…could you describe them and how you worked with them?
Dan Anyiam knew me well. He started seeing me when I was a teenager rocking Uwani Enugu. He came to see a street match at Ngwo Park, Enugu and hugged me after the duel and encouraged me to continue. He had such a likeness for me that I couldn't explain or understand. He said I played his in his position. He once came to our house to talk to my father who refused me from playing.
Anyiam made a lot of impact in my life as a player. Tiko was also good. He was part of a nine member Yugoslav coaches distributed to top Nigerian teams by the soccer managers of Nigeria at the time to boost our game. Tiko first joined us at Rangers. He saw many talented players in Rangers and put his interest and hard work and we all loved his style. We also gave him victory at the regional competition and this victory must have improved his profile to be called up to Green Eagles.
We also met Otto Gloria at the National team. We knew him as a great Brazilian coach with international clout. He came with his assistant Carliso. All our coaches were sincere and acted on merit. No one played without being in real form. You did not make the team because you were this or that or that someone influenced your invitation. That was why when Okala lost some bit of form, Best Ogedegbe was put in at the final of the cup of nation in 1980. All these coaches believed in fitness and performance.
Westerhoff?
My working with Westerhoff did not just happen. I was recommended to him when he started looking for someone to work with. By then I was still in Germany for the course. He already came with his assistants but I do not think he loved the people he was working with. So when I returned from Germany, I honoured his invitation. He welcomed me to join him and I in turn gave him absolute respect as my boss. I never challenged him because he was my leader. I am not trained to challenge my bosses but I could make suggestions.
There is so much respect in not challenging your leader and he found me capable and suitable. Even when his country man Bonfere Jo was with him, he believed and trusted me and even sent him to the Olympic team. There is nothing like waiting for your own turn. I can say we worked well and achieved quite a lot. Again Westerhoff believed and insisted on local players whom he built and recommended to international clubs. This helped Nigerian football in every way. When these players returned to play, they already knew themselves and the way to play. The team became solid and we did well and the records are still there and unbeaten.
One may be correct to say that your closeness to these coaches also helped you as a coach?
Yes, I agree. All I learnt from the system helped me so much especially in being fair and sincere, humble and firm at the same time. I fielded players on merit. Playing with these top class coaches was like being in school. I later also attended courses in Germany and Egypt. I picked the many good sides of these leaders and added my character and God did the rest.
There used to be Brazilians and Ghanaians in Nigerian league; do you feel somehow that our league has gone down?
I will not say it has gone down but I can say it has changed. There are still many teams in the league and they are running. However what I can say is that the devaluation of our economy has changed many things and killed many things. A foreign player cannot come to Nigeria to earn lower than he would earn in his home country. Again the European and other foreign leagues have changed our mentality.
Now how do you feel when you are called Chairman, field Marshal?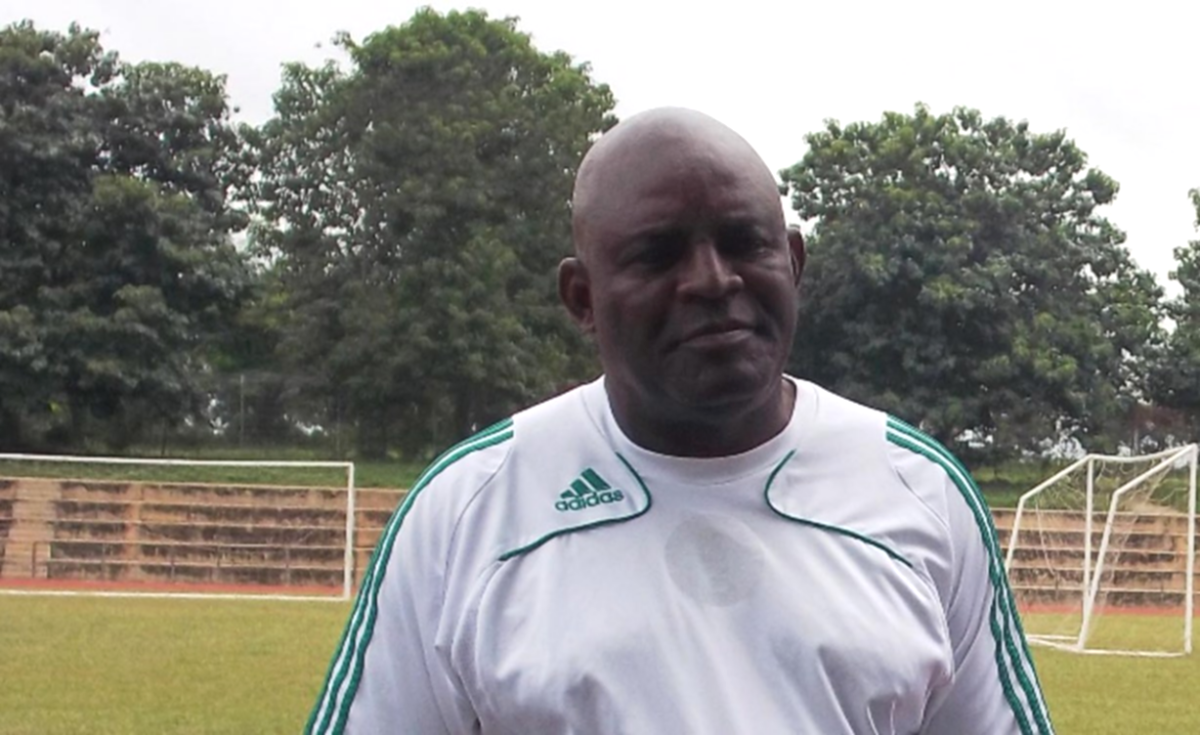 Each time I hear that I feel thankful to God and feel highly honoured. I quickly remember ace radio commentator Ernest Okonkwo, may his soul rest in peace, he nicknamed all of us. He called me Chairman, field marshal, called Segun Mathematical, called Sylvanus Okpala Quick Silver, Adokiye Chief Justice, Blockbuster Alloy Atuegbu etc. I am very grateful and remember him always. I believe my fellow team mates also remember him always for the names he gave that we all still bear and take glory in to this day.
I do not know why we do not have commentators of such talents any more in Nigeria. Radio commentators of those years made you feel you were in the field of play.
Any memories of your stints in Lebanon and Kenya….?
The Super Eagles had a vacancy for a coach and I was invited. It was keenly contested and I lost it. I quickly answered the call of Lebanon and went there. After one year, I left Lebanon and answered the national call again. Yet I lost it and was full of regret for leaving my job in Lebanon after only one year to answer a patriotic call. I lost it to politics. They couldn't have invited someone, making him dump his job only to deny him the job and begin to talk about me being an assistant. Thanks to God, Kenya invitation came for me to take up the Harambe stars of Kenya immediately after.
My stay in Kenya was memorable and I know that they were still talking about me in Nairobi many years after I left. I reorganised Kenyan football. My first observation was that Kenya did not have feeder teams like the under-17, under-19, under 20. I was worried and created the teams to feed the national teams. They understood with me and we created them and the difference was clear to them.
Soon we won the East African Games Cup. After two years, my family started getting worried saying I must return. That was how I left Kenya. I love Kenya so much. I again returned to Nigeria to join Rangers, my first-ever dream team. After Rangers, I told myself I have had enough. I took a rest which I am still enjoying today.
Are any of your children playing this game of soccer like you did?
This thing is God's doing. My children love soccer but not like I did and still do. I encourage them to follow their mind and pursue the career after their heart. God gave me four children; two boys and two girls.
Tell me about your wife?
She is a very patient woman. You know we were on the road every time for matches and it was not easy for the woman to carry the house without the presence of the man. I thank God all have come for good and I give her kudos. In those days it was not easy for us because I concentrated on my work. I met her in Enugu. We were family friends. In those days our parents had a hand in our marriages.
Not now when your children would readily bring a spouse from anywhere for you to bless them. And you bless them. In those days your mum would look out for a wife for you and when you tell her you have another girl from elsewhere, she would scream at you to shut up. When they see whom they love, they would check her character and family background not minding that you are the one to live with her.
They would invite you to meet them. Most of the times, it all worked out for good. In those days our parents had huge influences on us. And we listened to our parents. Even when I played football, they did not know because you dared not come home if someone reported you. I made sure I finished my plantain sales before playing. Parents hated footballers and musicians in our days as kids. They wanted lawyers and doctors and engineers. It was until I was playing for National Grammar school Nike and later Highlanders that my mum started taking me serious. Some of her friends at Christ church Anglican Church would tell her we heard your son's name and she started protecting me from my father.
My father joined the bandwagon when Dan Anyiam came to warn him to leave me alone or I would be expelled from school.
Again another interesting thing during my years with the Highlanders FC owned by the ministry of finance was that they usually came to pick me with the office bus with marked signs of ministry of finance which in those days were tax collectors. Each time they came, men playing draughts in front of our house wouls all scamper to safety. No one wished to be arrested. I was warned seriously that they should not be coming to pick me with this bus. Today it's all fun but by then it was a serious issue.
Who is Femi Otedola to you?
He is the son of former Lagos state Governor who loved sports. I didn't know him then but he knew me maybe because of my playing career and fame. When I came to know him very well was when I was sick a few years back. When he heard that I was sick, he transported me to London and gave me first class treatment. May be by now I wouldn't have been granting you this interview.
You would have been writing history about when this man was alive. It was after this treatment that I came closer to him and we knew each other very well. I am indeed very grateful to him. God used him to save my life. Do you know what it means to transport me from here, forget all the hospital bills and every other thing and put me in a hospital where I was given proper treatment and came back better?. So if you ask me after God I think he is next.
Your book is set for launching in Lagos any time from now, how do you feel about this book?
I feel very happy that this is an everlasting document and children upon children would grow to see it. It seems like the first time such a book is being written about a Nigerian footballer. People before us like Dan Anyiam, Onyeanwuna and a host of others do not have any books on them.
You just hear about them. I am very happy about it and commend the author. The book has been presented in Enugu and we are going to Lagos and then Abuja to make it nationwide. It is expected to be found in major libraries in schools and even the Nigerian Institute of sports. This keeps the subject alive forever. That was why I was very open when the author suggested it to me and gave him all that I knew and still remember about my football life.
Culled from Vanguard
Imo massacre: Armoured vehicles procured for police used to rig elections – LP
Labour Party, palpably in anguish at the slaughter of eight soldiers in Imo State on Tuesday by some rampaging gunmen, has raised questions over the whereabouts of the nine Armoured Personnel Carriers (APCs) Athan Achonu, it claimed its governorship candidate for the November 11 election, repaired and donated to the authorities in the state.
The party, all but called out the leadership of the Imo State Police Command, to whom they claimed the equipment were handed over, alleging that the last time they APCs were seen was during the last general elections, where they were used by members of the All Progressives Congress (APC), the party in power in the state to snatch ballot boxes for candidates in the national and state assemblies.
The claim, was made when Nick Opara-Ndudu  and Nnaemeka Onyeka Obiareri , chieftains of the party appeared as guests on The Morning Show, a breakfast programme on Arise Television to sell the candidacy of Achonu, whom they said would never have allowed the type of insecurity in the state to endure under his watch.
Both men, who said that Achonu, whose highest political office so far, was his short stint in the Senate, where he served via the 2015 election before he was removed through the courts, remained the only solution not to the insecurity, in the state and even the South East,  but the one to rescue the people from years of underdevelopment from poor leadership.
Obiareri, spokesman of the LP in the state, argued that if the APCs had been in place, Tuesday's incident in which the military men were killed alongside some policemen and officials of the Nigerian Security and Civil Defence Corps (NSCDC), would probably not have happened, said a check on the social media would reveal how they were used by party men of the APC for rigging the 2023 general elections.
He said: "The military men that were killed if they had armoured vehicles patrolling, they wouldn't have been shot by those criminals. Athan Achonu, go and confirm from Innoson, paid hundreds of millions of naira to Innoson, Innoson is still alive, you people can still go and interview him, to repair nine armoured vehicles for the police. Five were supposed to be in Okigwe zone. Till today, we don't know where those nine armoured cars are.
"If you go to Youtube, you'll see Youtube record of members of the House of Assembly in Imo State using those APCs to carry ballot boxes. It's there on Youtube, you can search it out. What Athan Achonu will do is very simple. Every local government area will have one humvy vehicle for the police. Police stations had been totally burnt in Imo State and Athan repaired most of those police stations.
"Then, there will be community vigilante. We'll train those 50 youths per community – train them, equip them and arm them. They should guard their communities. When you have over 50,000 hectres of land, reclaimed from the bandits, and you have youths who are not only just farming, but who are trained to protect their communities, they'll do the job.
"Then, we have to set up a security trust fund. Ndi-Imo are not scared. As at today, there are some communities in Imo State, where bandits – unknown gunmen, are ransacking and collecting levies from the communities. Basically, Athan Achonu will provide training, recruitment for people donated by the communities. Communities know those who are the terrible ones in their midst. And I tell you, in six months, they will flush them out."
Opara-Ndudu, who dismissed the claim by the state governor, Hope Uzodimma that the carnage and other killings in the state were politically-motivated, blamed the governor for misplacing his priorities and failing to provide jobs for the teeming youth population in the state, questioning why nobody had been arrested and prosecuted fully in the courts if the insecurity in the state was all about politics.
Hear him: "The security problem has to do with objective conditions in the state. The young people are frustrated. The government is not making any investments in the areas that are required. We're busy pursuing projects that are designs in deception. Look at the roads that are being done in Imo State, you know for you to deal with the problem of poverty and other economic challenges, you have to deal with the problem of infrastructure.
"In Imo State, the government has dedicated all of its time and half of its time to reconstructing federal roads without any attention – little or no attention paid to the rural areas. If you go to length and breadth of Imo State – Ngor Okpala, Ezinifte Mbaise, even in the governor's local government – everywhere in Imo State, you find that the rural areas are looking desolate and abandoned."
Police find body of missing female student dumped in the bush, vow to get killers
Operatives of the Federal Capital Territory (FCT), command, have vowed to fish out the killers of a university student, Blessing Karami, whose body was said to have been picked up from the bush days after she was declared missing on September 11.
The FCT police, which released the painful news on Thursday, said in a statement by its spokesman, Josephine Adeh that the remains were found in the woods in the Karimu area of the city.
The police spokesman acknowledged that her disappearance was reported to the police authorities last,  Thursday, September 14 added that 26-year-old Blessing, a student of the National Open University of Nigeria (NOUN), was declared missing after leaving her place of work in Garki, Abuja.
She said in the statement: "The body of Blessing Karami Moses, a 26-year-old woman who had been missing since September 11, 2023, was tragically discovered in a wooded area in Karimo. Her disappearance was reported to the authorities on September 14, 2023," the statement read.
She said Commissioner of Police, FCT, Haruna Garba, had directed that command should conduct a thorough and impartial investigation into the circumstances surrounding the incident, adding: "While we are working closely with the Abuja Environmental Protection Board (AEPB) to facilitate the respectful retrieval of the decomposed remains acknowledging the sensitive nature of this task, we will continue to provide updates to the public as our investigation progresses."
Adeh, a Superintendent of Police (SP), also commiserated with Blessing's family and loved ones over the incident.
Ogun cult massacre: DSS raid home, pick up PDP lawmaker, five others
Damilare Bello Mohammed, a serving member of the Ogun State House of Assembly (OGHA), is currently telling operatives of the Department of State Services (DSS) his side of the story, after he was picked up over his alleged involvement in the rival secret cult clashes that occurred in Sagamu town.
Mohammed, recently elected on the platform of the People's Democratic Party (PDP) to represent Sagamu State Constituency 1, was picked up on Wednesday by the agency over the incident in which at least eight persons were killed last weekend during the violent clash in the town, alongside five other suspected cultists allegedly involved in the cult violence.
The five other suspects; Debbo Animashaun, Bamidele Saheed, Ismaila Onitire, Adewale Otesanya and Tobi Owoade, were arrested by the DSS operatives during a sting operation after a tip-off at the early hours of Thursday within the residence of the lawmaker.
Lekan Adeniran, spokesman to Dapo Abiodun, the Ogun State governor, announced the development in a statement on Wednesday, saying the secret police tracked the six suspected cultists to the official residence of the lawmaker.
Accusing the lawmaker of providing shelter to the cultists, Adeniran, said in the statement, that the suspects were presently undergoing interrogation in DSS custody after many dangerous weapons, including guns, were recovered from them.