Record-breaking Quadri now ranked 25 globally
Posted by Editor | 7 September 2016, 10:00am | 1331
Quadri
Aruna Quadri's star continues to soar. The Nigerian, who barely a month ago became the first African to reach the quarterfinals of the Olympic Games table tennis event, has scored another first by becoming the first African to make the top 30 list in the world.
Quadri on Tuesday made a huge leap in the ITTF world ranking when he became the first African to be ranked number 25 in the world.
Quadri was one of the stars at the Rio Olympic Games in Brazil after stunning the world to become the first African to play in the last eight of the games. That performance in Rio gave him 152 points, which added to the 2305 points he had in the August ranking, now places him on 2457 points.
The cumulative points gain has now shot the star from the number 40 to among the best 25 players in the world. The latest ranking also list him among the most active players in the world.
Other active players in the recent rating are Brazil's Hugo Calderano and England's Paul Drinkhall.
Calderano, who like Quadri became the first player from South America to play in the quarterfinal of the Olympic Games, moved the 54th position in August to 31 in the world, while Drinkhall moved from 58 to 32 in the globe.
Also, a member of the ITTF '7' Club, Nigeria's Segun Toriola was rewarded for his efforts in Rio as the seventh time Olympian moved from 120 to 106 in the ranking, while Egypt's Omar Assar remains the continent's number two. Assar who was edged out in the second round of the Rio Olympic Games by Ukraine's Lei Kou dropped from 55 to 56 in the world.
Despite dropping to 118 from 110, Egypt's Dina Meshref remains the top ranked African female player, while Nigeria's duo of Edem Offiong and Olufunke Oshonaike were not lucky as well, with Offiong dropping from 120 to 129 while Oshonaike dropped from 241 to 251.
In the latest ranking, Olympic and World Champion, China's Ma Long held on to the zenith of the ranking again as the Asian star and his compatriot – Shiwen Liu remain number one ranked male and female players in the world.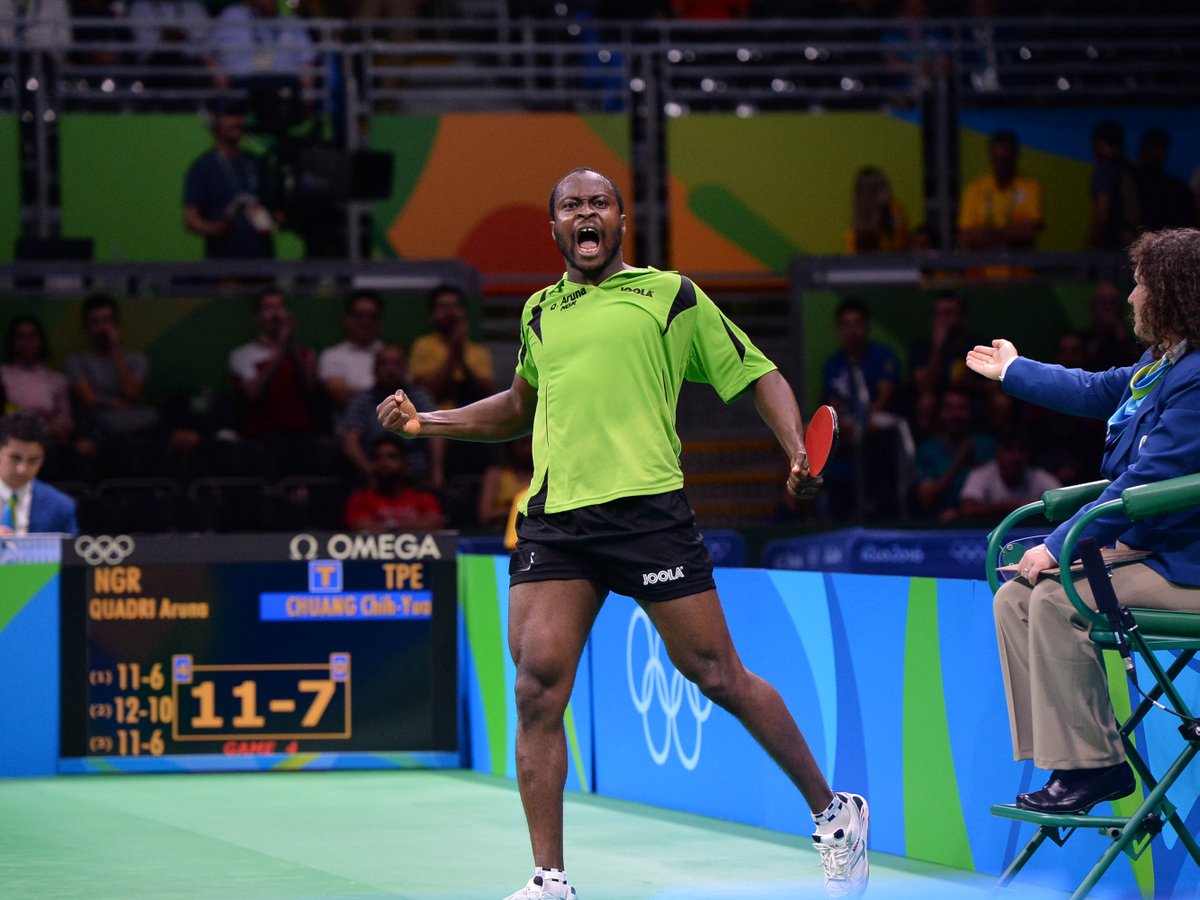 Ecstatic: Quadri
Source: Whirlwindnews.com
Disclaimer
Comments expressed here do not reflect the opinions of WhirlWindNews or any employee thereof.
You may also like...